What To Consider So You Invest in A Yoga Mat That's Right for You
Yoga is almost as old as civilised society, and its popularity has soared over the past decade, primarily due to the incredible effects it has on the mind, body, strength, flexibility, and lifestyle. In our society is becoming increasingly more health and wellness oriented. People are more inclined to choose a holistic approach to fitness for their workout routine, which may include Yoga. From professional footballers to celebrities, Yoga is being introduced into daily routines across the world.
Whether you are a beginner or an advanced yoga fanatic (or a "Yogi" if you prefer) you should prioritise getting the right equipment to practice yoga.
While many invest in yoga gear, instructors, retreats, and other yoga-related experiences, investing in a solid yoga mat is essential. A proper yoga mat gives you the right cushioning and support for executing those yoga positions without worrying about getting thrown off balance.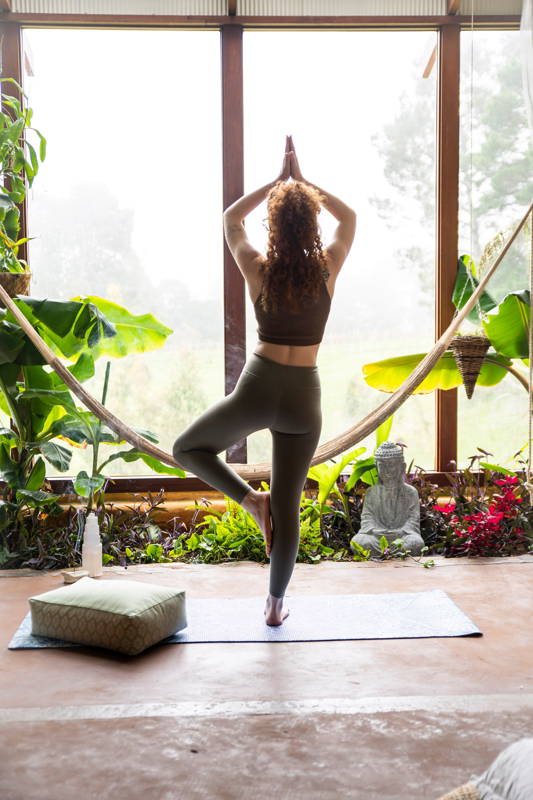 There was a time when only PVC sticky yoga mats were available for yoga enthusiasts. But now, there is a trove of offerings that are available across online and offline markets.
When you buy a yoga mat, make sure it's eco-friendly, packable, portable, convenient, and practical. You must consider colour and design aspects too, along with its texture, thickness, and composition before you buy.
Read on to learn why you need a yoga mat and how you can choose the right yoga mat for yourself.
Practising yoga straight onto a hard floor or carpet is not recommended - it can do more harm than good. Further, using cheap alternatives to a yoga mat, like a towel, or a form of pillow, can be slippery and lead to injury.
Gyms recommend using good-quality yoga mats, and many provide them to members. However, to ensure you are comfortable with the mat you're using, which will promote mental and physical advancement when practising, it is recommended you purchase your own yoga mat. Choose a mat that suits your style, feels comfortable, and is suitably sized.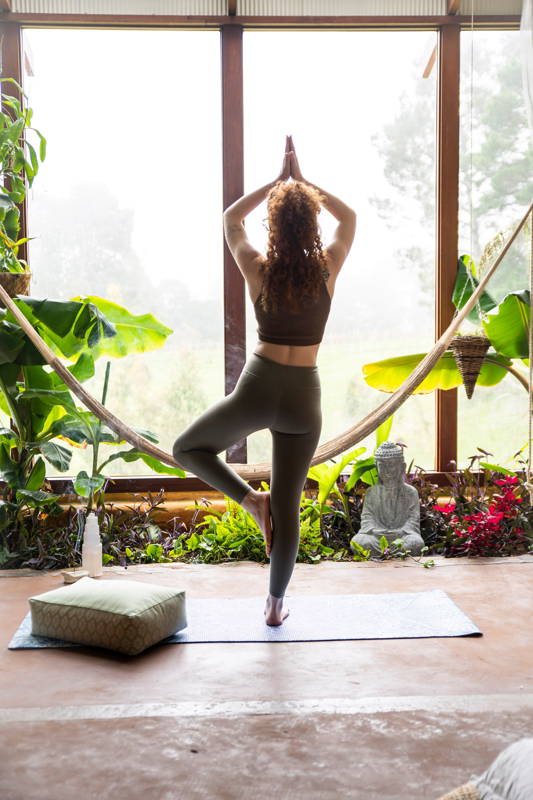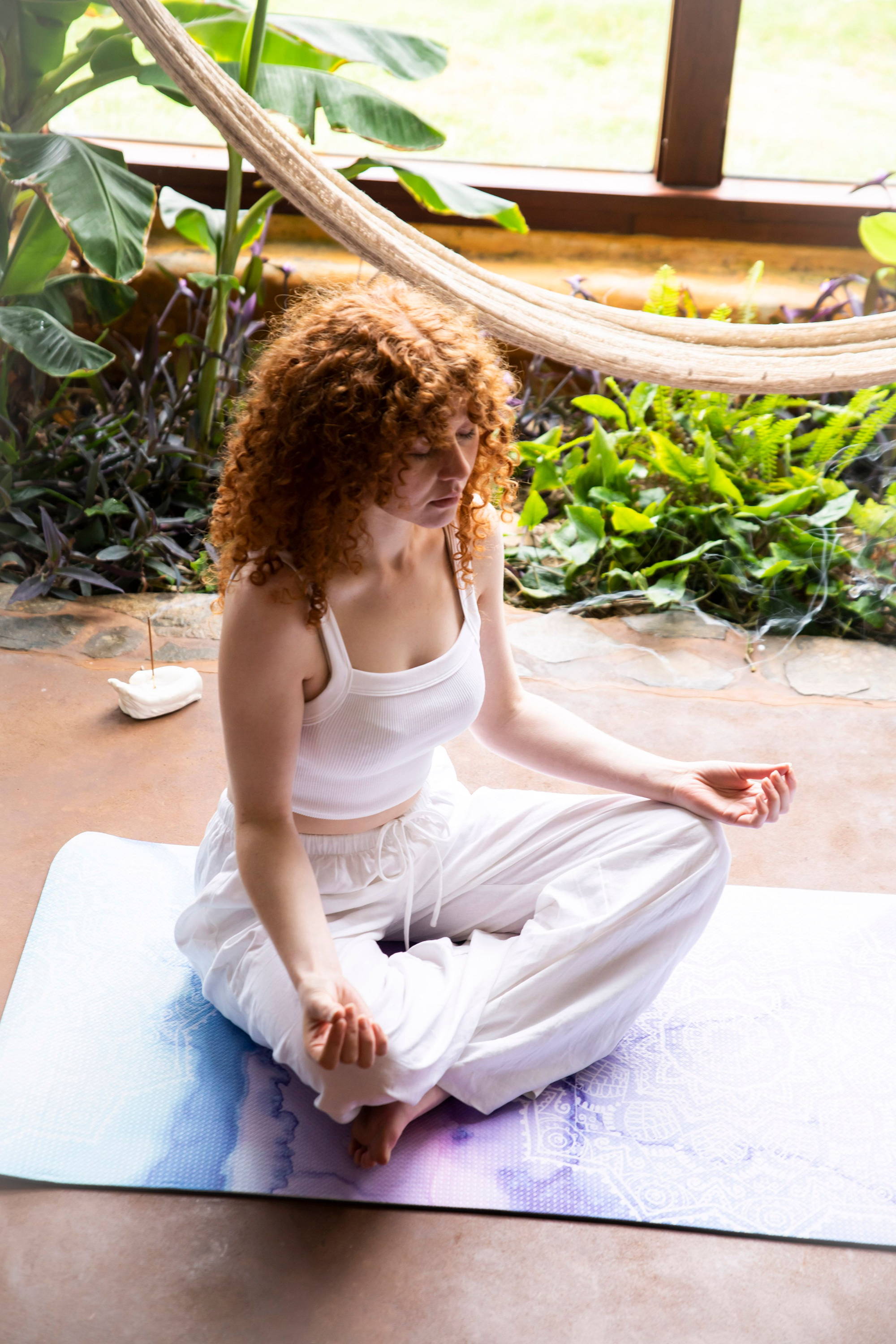 Types of Yoga Mats Based on Material or Fabric
Non-slip PVC Yoga Mats
Non-slippery yoga mats suitable for people who sweat a lot and for those who are learners and are fairly new to yoga asanas. While PVC yoga mats are the most widely used, they aren't recyclable, or disposable for that matter. Something to consider is that PVC mats are plastic-based, and not eco-friendly.
Acupressure Yoga Mats
These yoga mats are exceptional tools for pain relief and muscle relaxation because of their acupressure points. When you do yoga on these mats, your body can recover as you go, and the increased blood flow will leave you feeling more energised than before. After your yoga session, you will be able to wind down and do your breathing exercises with much more ease, before entering that post-yoga deep calm. You may find it challenging to switch to these mats initially, but with regular use, you'll become comfortable in no time.
Despite their immense benefits, these mats are not recommended for people with blood clotting issues, epilepsy, heart disease, and other acute illnesses.
TPE - Thermoplastic Elastomer Mat
This is a combination of plastic and rubber polymers that are recyclable and a lot more environmentally friendly than most options. However, compared to PVC, they can provide less traction and durability.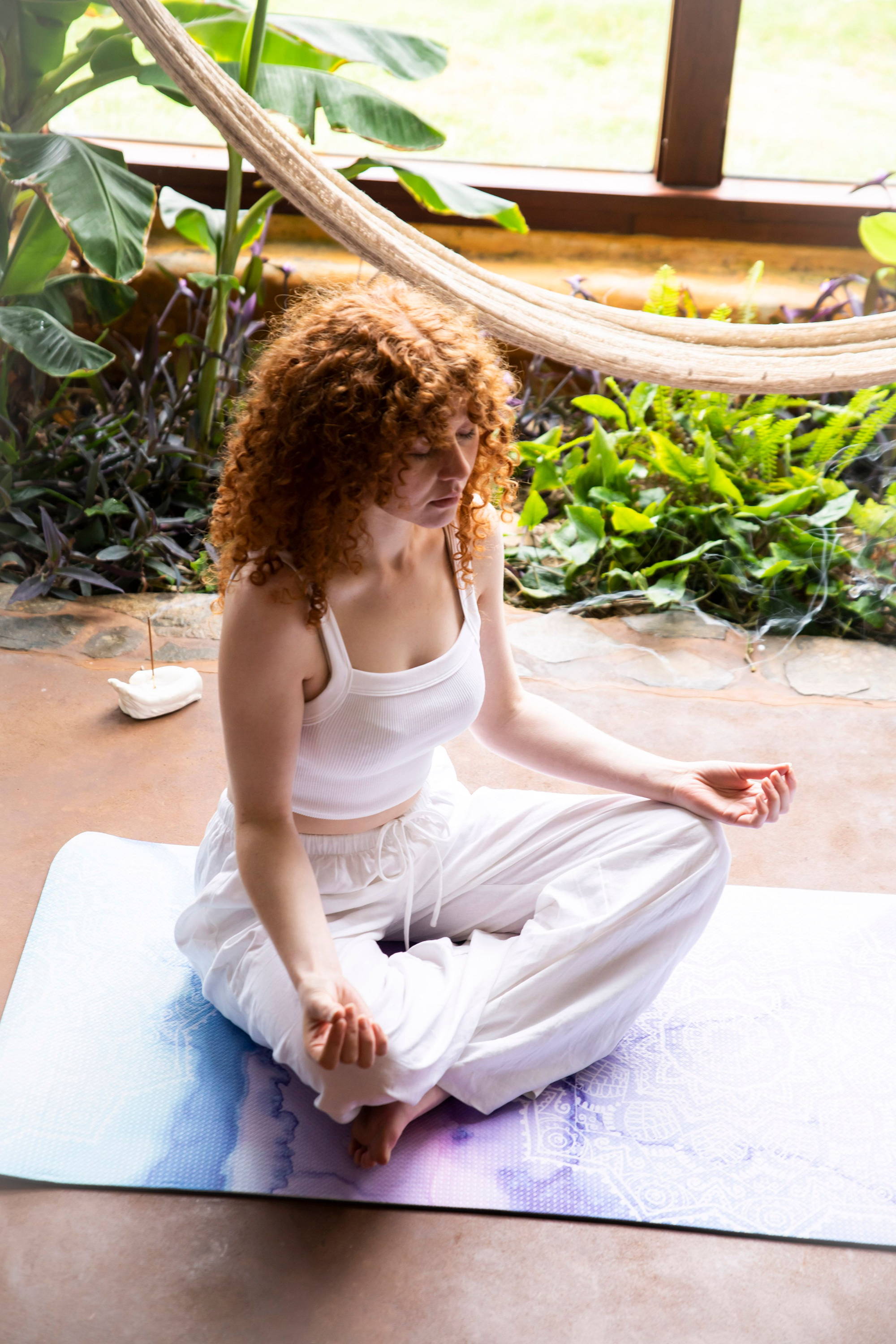 Cotton Yoga Mats
Cotton Yoga Mats are an affordable option that can easily be washed and re-used repeatedly. This type of mat is more suitable for a yoga pro. For beginners and learners a cotton yoga mat can be slippery, especially if placed on a smooth surface, and may cause injury.
Travel yoga mats
A travel yoga mat is portable, lightweight, and great for packaging compactly when needed, but are not recommended for everyday use.
Jute Yoga Mats
Jute Yoga mats were the most popular for a long period of time. However, now there are many more suitable options on the market, so jute mats are preferred for those on a low budget.
Natural rubber yoga mats
Made using natural ingredients, these eco-friendly mats are kind to human skin and great for all types of yoga users.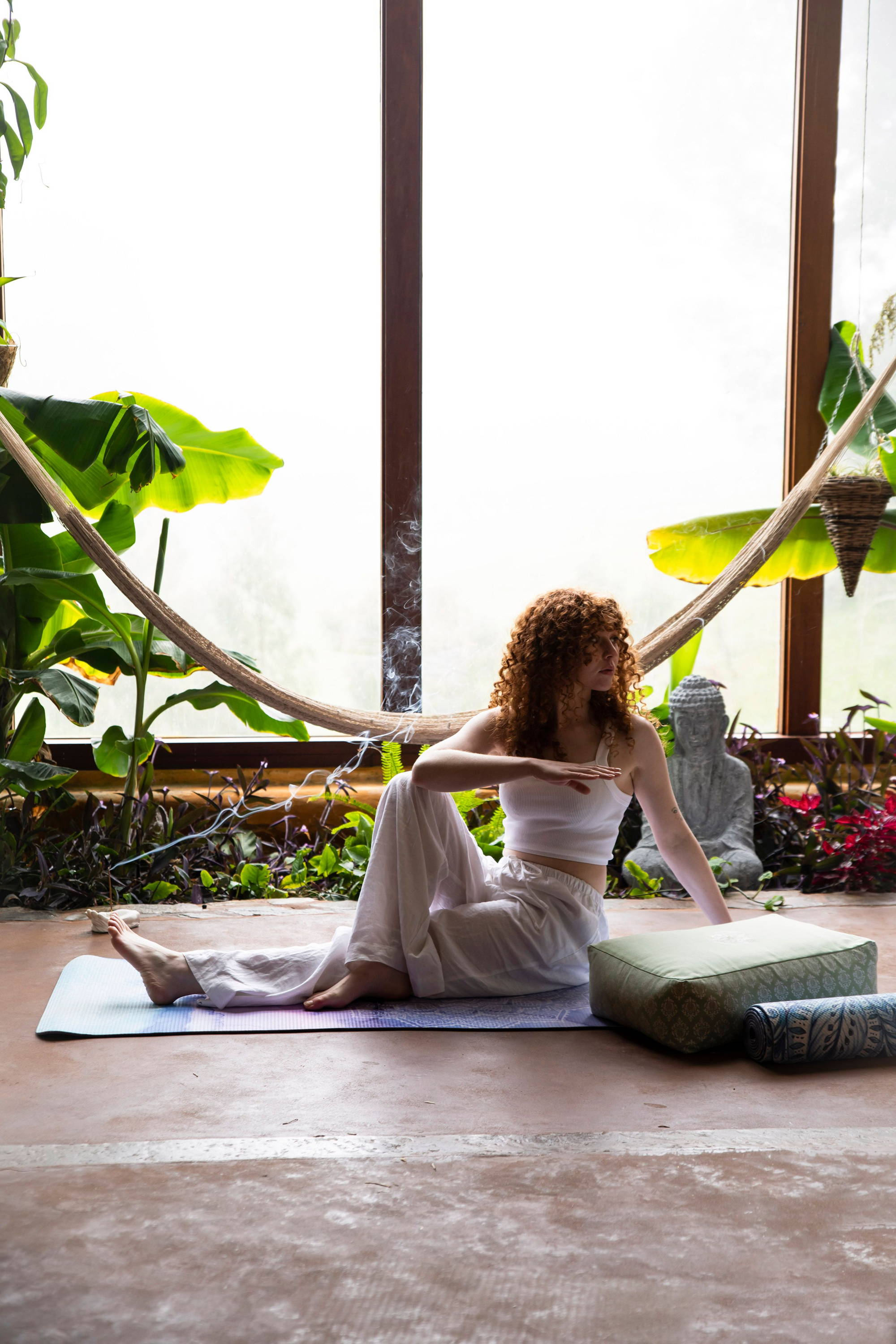 Types of Yoga Mats Based on Your Level
How experienced are you with practicing yoga? It is essential to choose the right yoga mat according to your needs and level:
Beginner
If you have just started off yoga sessions and use your mat less than 3-4 times a week, then a thick mat with a solid grip is recommended. Start with basic yoga poses like Yin, Balasana, Shavasana, Tadasana, etc., that allow you to be more grounded. Consider the comfort of your joints and muscles and consider a thick mat.
If you will be carrying your mat to and from the gym, stick to a mat thickness of 5-8 mm for easy transportability.
Intermediate
Now that you're slightly more experienced – and have been practising yoga for a few months, you can get into more advanced yoga asanas like Surya Namaskar, Sarvangasana, Matsyasana, Halasana, etc. This means more sweat, and the need for a better-quality yoga.
Choose one that absorbs sweat (prevents slip) and can be used for hours. A 5 mm thickness mat is recommended for this stage.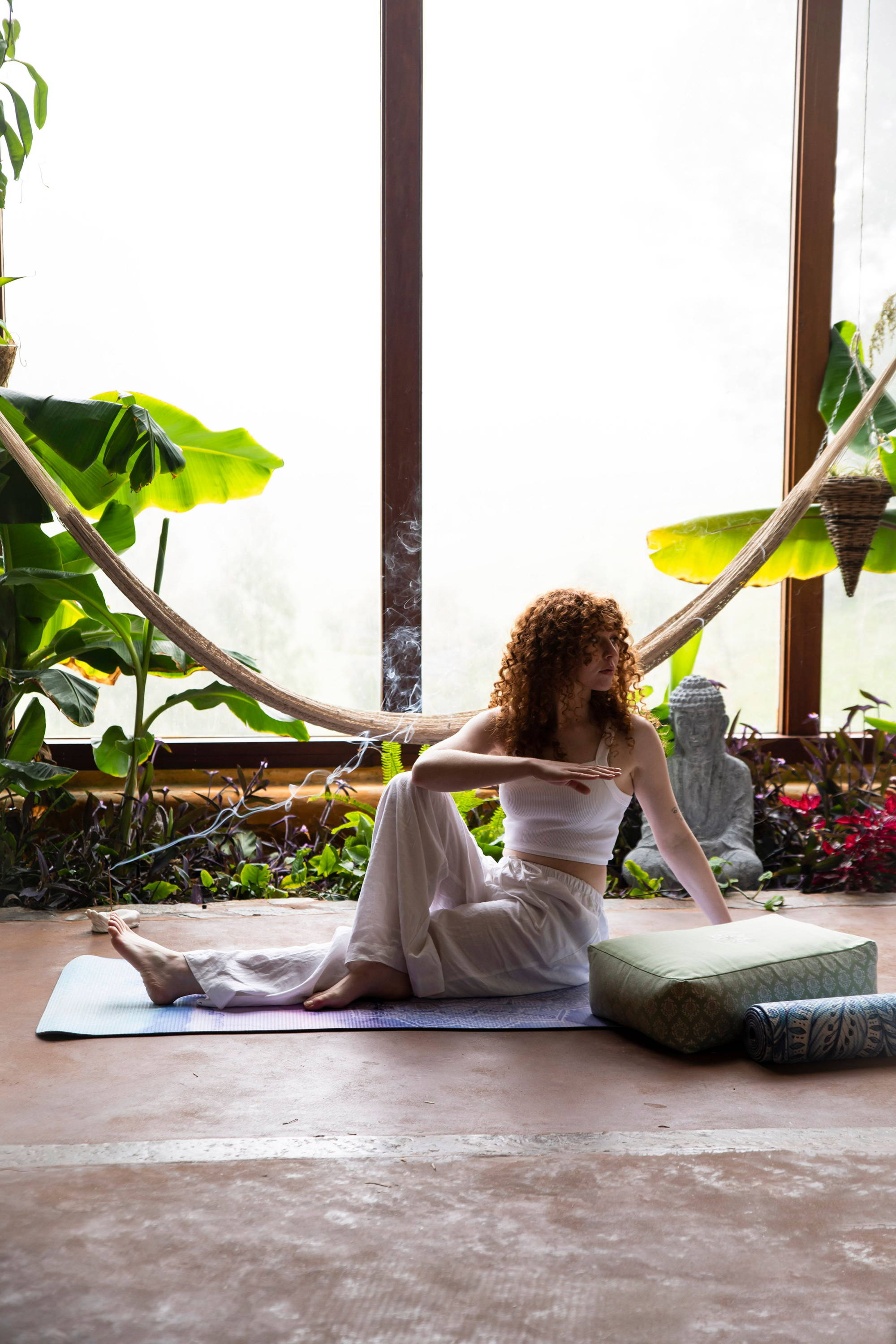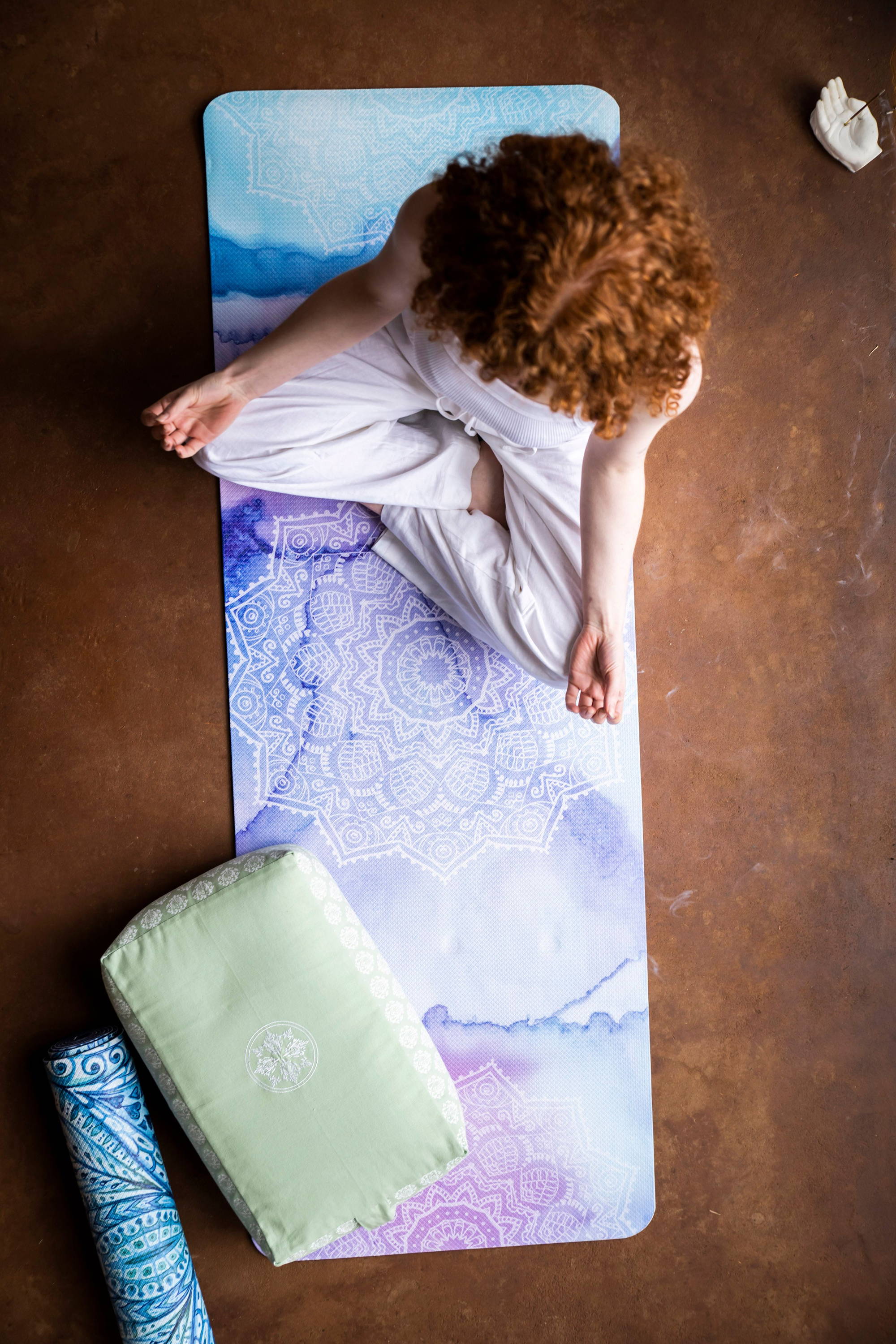 Advanced
Now you are Yoga pro who has consistently been practising high-intensity asanas like Adho Mukha Vrksasana, dhanurasana, hanumanasana, pincha Mayurasana, etc. You will need a yoga mat that can give you good stability and balance.
Go for a thickness of 1-5 mm, choose a mat with a solid grip.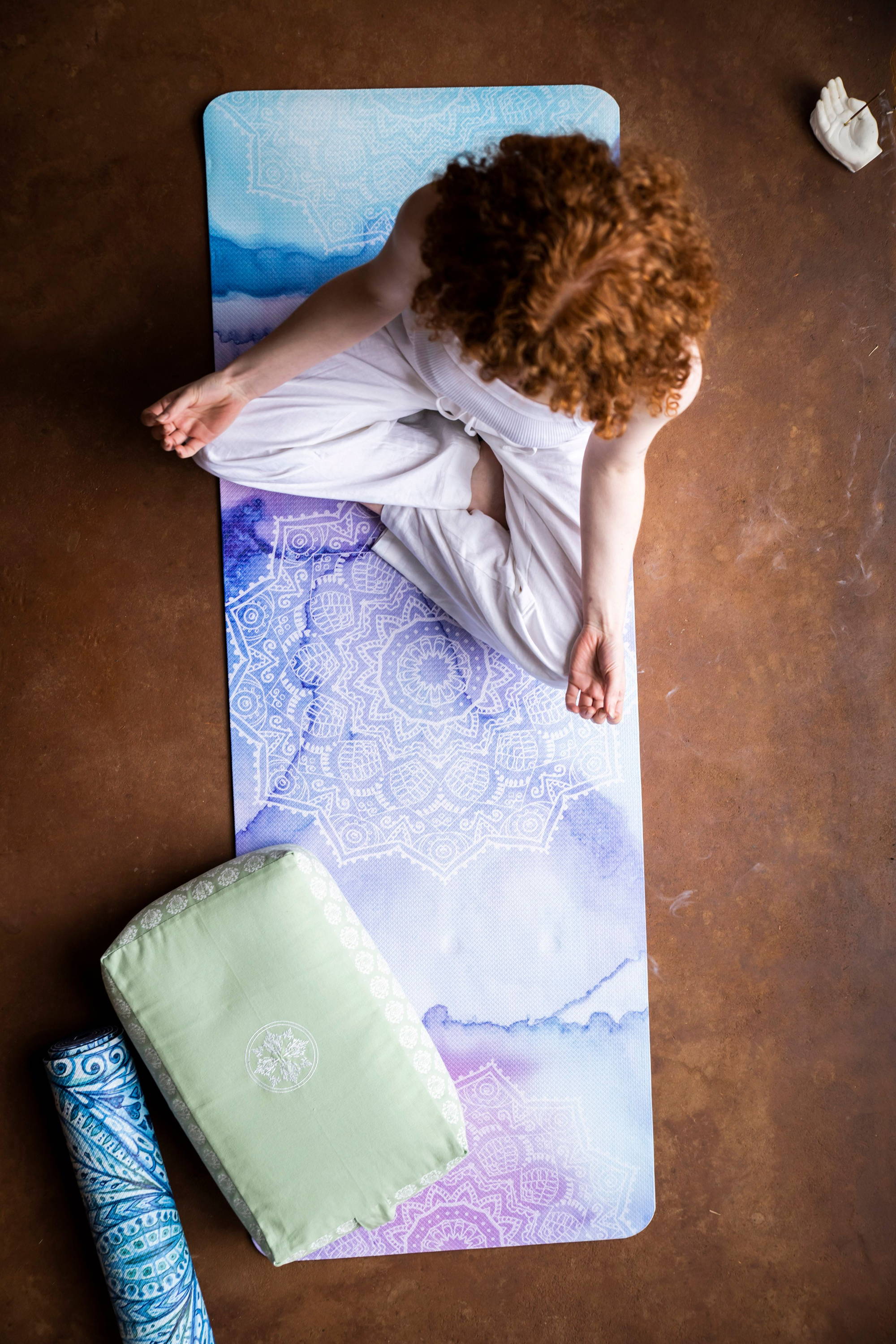 Choosing The Right Size Yoga Mat
The common length of a yoga mat ranges from 68 x 24 inches to 72 or 74 inches, depending on your heigh. A universal beginners yoga mat yoga is 72X61cm with 6mm thickness.
Is It Sweat absorbent?
This is a critical parameter, as you don't want to be carrying a putrid, unhygienic, and uncomfortable yoga mat. Consider choosing one that absorbs sweat or can easily be washed.
Yoga Mat Sprays that come with a blend of essential oils can be used on the mat for better meditation, enthusiasm, calmness, emotional elevation and to maintain a calming, pleasant scent.
Style And Design
Although this element has nothing to do with functionality, we all like things that catch our fancy, and sleek looking designer mats can set the mood and motivate you to do more strenuous asanas.
Choose softer hues and chi-friendly patterns that can elevate your senses and make you more enthusiastic about your yoga routine. Choose your patterns, designs, colours, and prints, according to your personal style and preferences to inspire your practice.
Price
If you have just started off opt for a more budget friendly mat, you can always upgrade it as you improve.
As you start practising more, you will need may require a more expensive option that will come with advanced attributes such as improved material, thickness, antimicrobial treatments, and/or design.
You can browse online and check out the plethora of yoga mat options available at Karma Living. Rely on ethical brands, like Karma Living, to offer responsibly made yoga mats, and don't forget to read the reviews, ratings, customer feedback, and testimonials before you make up your mind. You can check with yoga experts or trainers, if you want their advice before buying. It is quintessential to train on a mat that is right for you, to ensure you are getting the most out of your yoga practice.