Why You Should Incorporate a Glass Essential Oil Diffuser into Your Home
Glass based diffusers emit essential oils into the air that are beneficial for the body, mind, and living spaces they are placed in. The pleasant aroma from these diffusers also helps improve moods and the overall feeling of the space they're in.
If essential oils are your thing (or not), an Ultrasonic Glass Diffuser is an ideal way to introduce them to your home. Read on to understand all the benefits they bring and why you should incorporate a Glass Essential Oil Diffuser into your home.
An essential oil diffuser disperses fragrance evenly, allowing molecules to pass through your respiratory system and into the part of the brain that controls emotions.
To create a peaceful atmosphere, try using oils such as chamomile and lavender to set the mood. Though spikenard is very calming, it isn't advised to be used as a diffuser oil due to the potential harm it can cause to mucous membranes and bronchial passageways.
While Glass Diffusers release essential oils in a way that reaches everyone in a room, they save a significant amount of oil due to gradual and judicious aerosolization, whereas spray bottles run out rather quickly. Because of this, Glass diffusers are also a fantastic alternative for someone with sensitive skin, the way glass diffusers dilute and disperse the oils helps to avoid any irritation that concentrated oils can cause.
Benefits of Introducing Essential Oils in Glass Diffusers to Your Home
Here are some benefits of using glass essential oil diffusers in your home.
Balances Your Emotions
Using essential oils is the best way to influence your limbic system and assuage your emotions. Diffusing essential oils in your house can help you unwind, get a good night's sleep, and even heal emotional wounds by creating an ambient atmosphere.
Using coping mechanisms, like aromatherapy, can help stabilize your emotions and build a healthier outlook on life. Different types of essential oils will have different properties that can help different areas. Try lavender oils for sleep, jasmine oil for calmness etc.
Enhances Joy and Energy
Oxygenating molecules are abundant in the air that is dispersed through glass diffusers. When you inhale these molecules dispersed from the glass diffuser, you effectively improve the functionality of your brain, attracting happier feelings.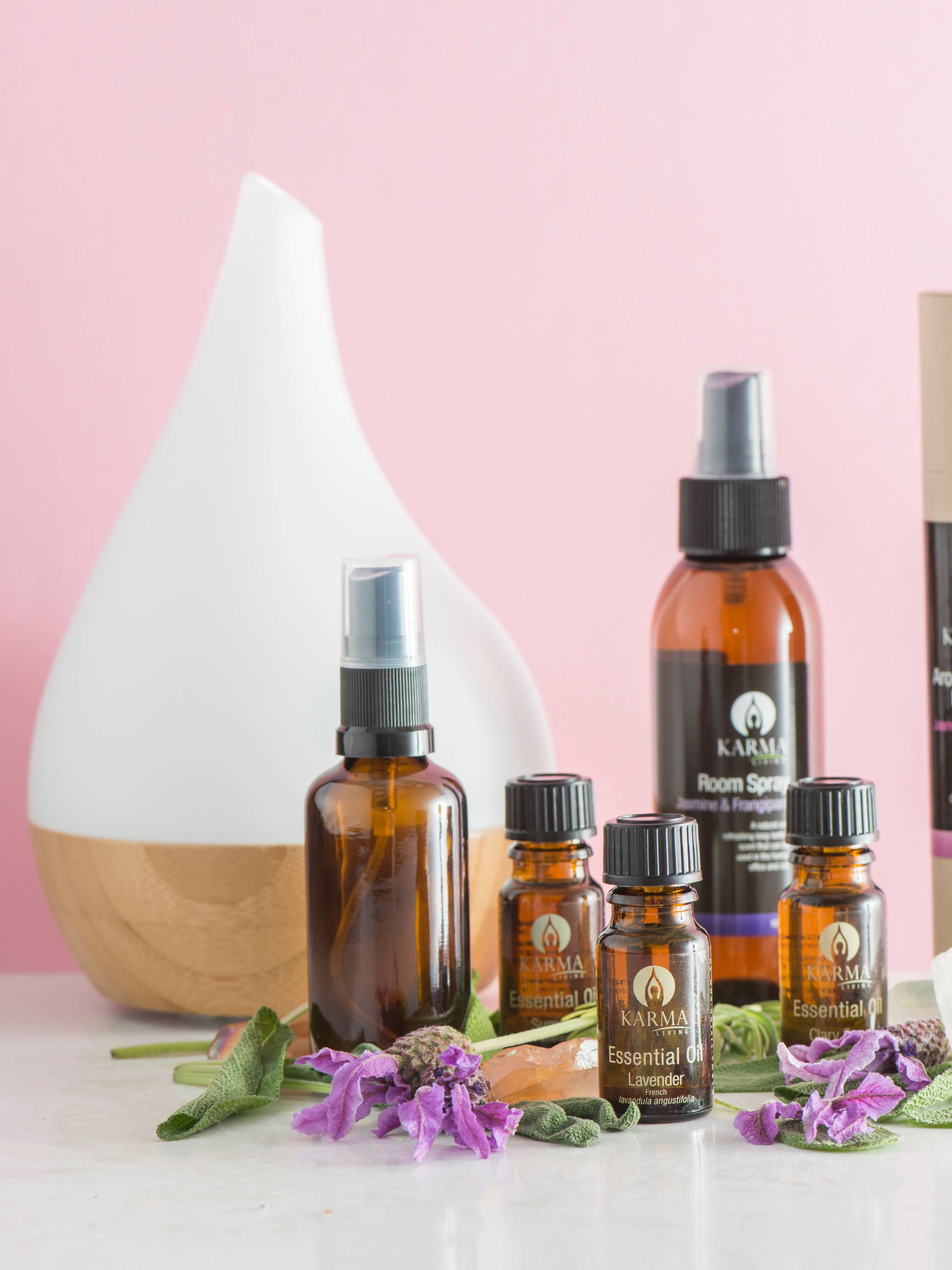 Works as a Non-Toxic Air Purifier
Are you aware that we spend 90% of our lifetime indoors? Indoor air pollution can aggravate asthma, irritate our sinuses, cause congestion, and leave us feeling worn-out, tired and may even aid some types of sicknesses.
Diffusing essential oils helps maintain a clean, healthy environment. A good-quality, therapeutic-grade essential oil will be 100% natural, with no added chemicals or additives.
Unlike scented candles, plug-ins, and synthetic air fresheners, glass diffusers are not poisonous to your body. They will purify the air in your house while spreading a pleasant aromatic scent.
Supports the Respiratory System
Airborne oils make for easier breathing and give your lungs a healthy boost. You can use these essential oils to improve your immune system, and fragrance diffusers also act as humidifiers to keep your airways clear and reduce your susceptibility to infections. Glass diffusers disperse the oils evenly across your space creating an ambient space you can escape to after a long day.
The benefits of a natural lifestyle for health are well known. If you are already leading a more natural lifestyle, you are already aware of the advantages of using glass diffusers for essential oils.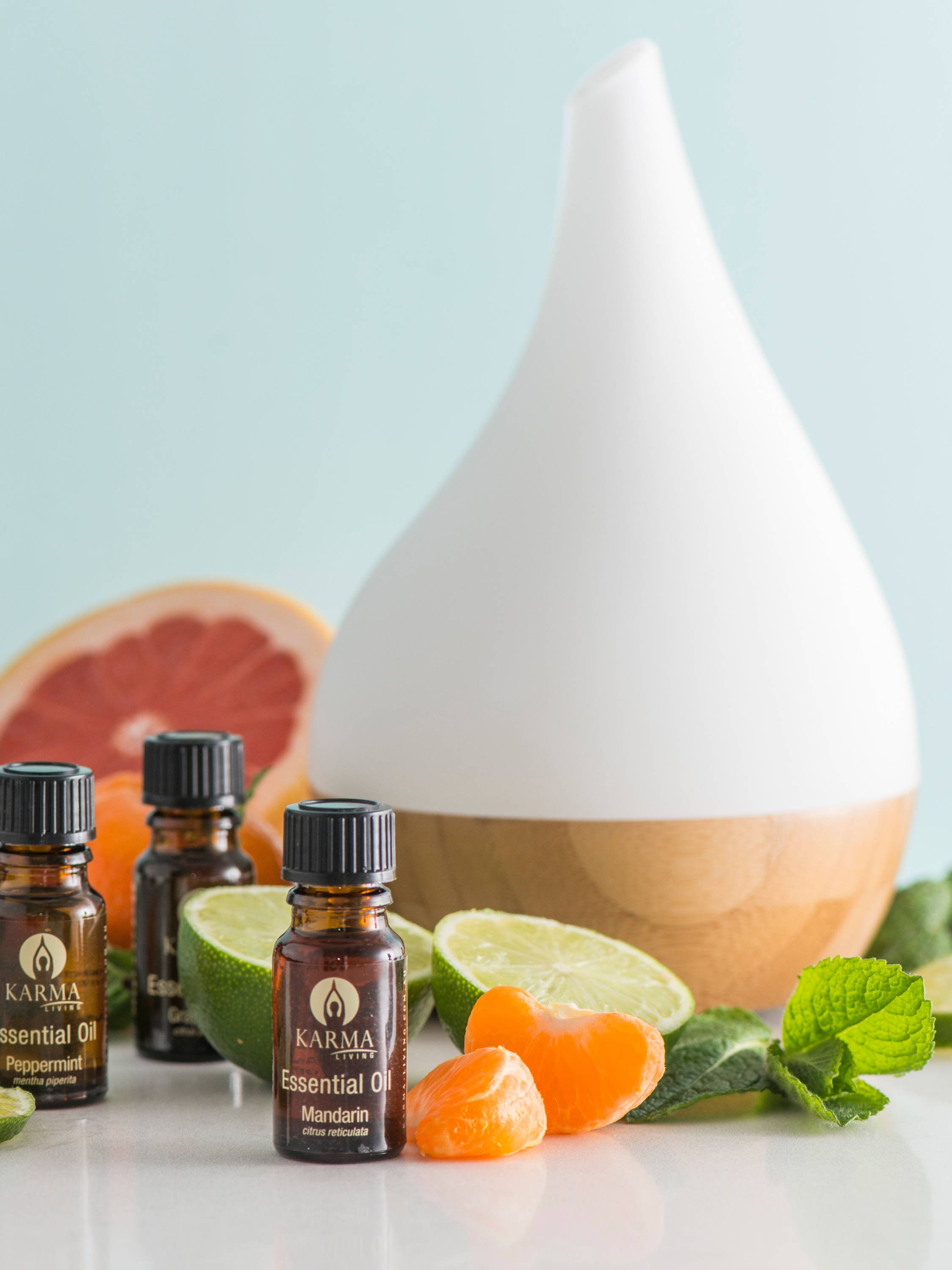 It is a Safe and Efficient way to use Essential Oils
Diffusing essential oils into the air is safer than using them on the skin on most occasions. Glass essential oil diffusers allow for the oil to be subtly dispersed over intermittent periods; this is the most effective way to use your essential oils for full benefits. With continuous diffusion, for a period longer than 1 hour, benefits do not increase.
It is important to note, depending on the product in the diffuser, home fragrance diffusers can potentially be harmful for pets. Make sure to look out for respiratory irritation in your pets which can present as watery eyes and nose, throat irritation, drooling, vomiting, breathing difficulties etc.
Encourages Healthy Lifestyle
Essential oils encourage a healthy, alternative way of life. While you can link this to the oils you are using, glass diffusers help you get the most out of them.
If you are a spiritual individual, some essential oils used in glass diffusers will help you be more mindful which is essential for meditation and reflective thinking, promoting a healthier way of life.
Inspires Cleanliness
Glass diffusers give users a full range of health benefits through the antibacterial properties of essential oils.
Essential oils naturally possess antibacterial and antimicrobial compounds helping to purify the air in your home. Glass diffusers disperse these compounds along with the pleasant aromatic scent, cleansing your space and creating a tranquil vibe. Make sure to check up on and clean your glass diffusers every so often; bacteria can gather over time which can be spread into the air when used (though the antibacterial properties of the oils should prevent this from occurring).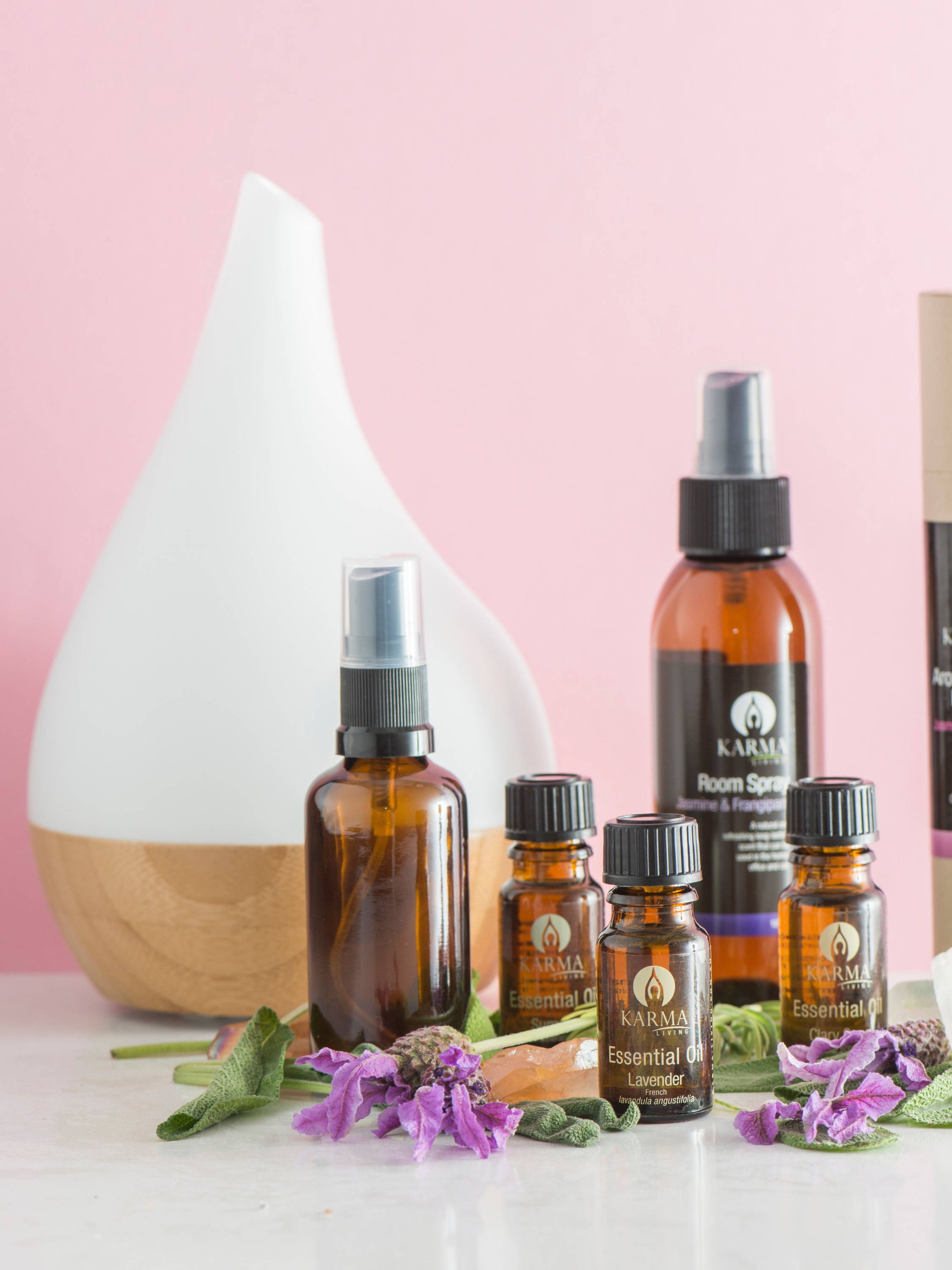 There are myths that glass diffusers can intensely irritate our skin or are best used to just spread fragrance around our homes, we hope you now understand the benefits of using glass diffusers in your home. Visit Karma Living to shop our range of glass diffusers.