Everything you need to know about Our Witchy Essentials kit
Our Witchy Essentials Kit is filled with all of the essential items you need to bring out the magic within you. Whether you are a beginner to the world of Wicca, or perhaps you practice magic and want to update your collection, this kit is perfect for people of all levels of magical knowledge.
This kit features a variety of different products, allowing you to practice a number of different rituals, and spells. See below each item that is featured in this kit and what power they bring...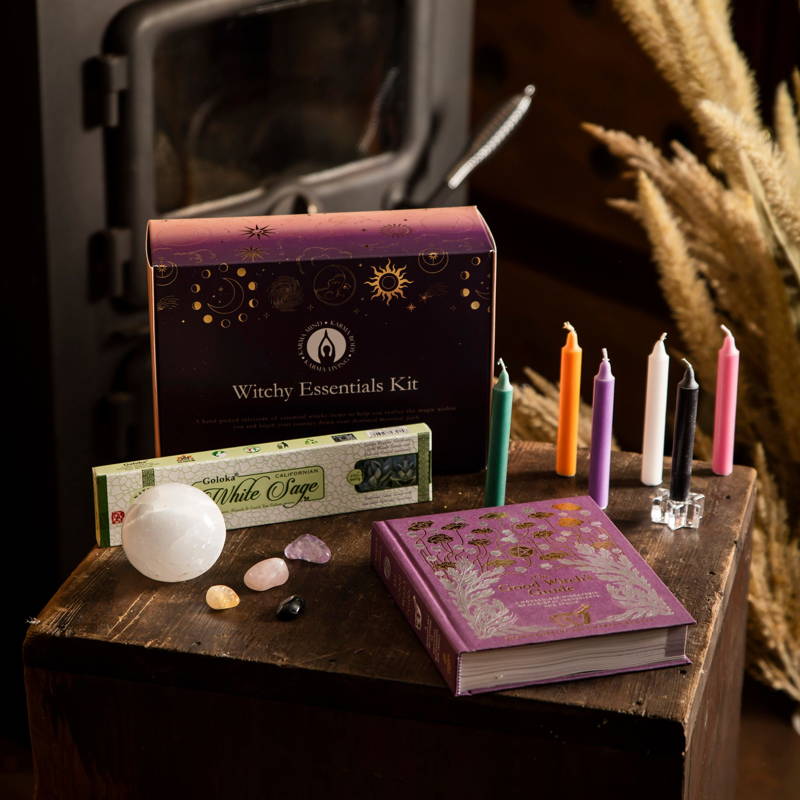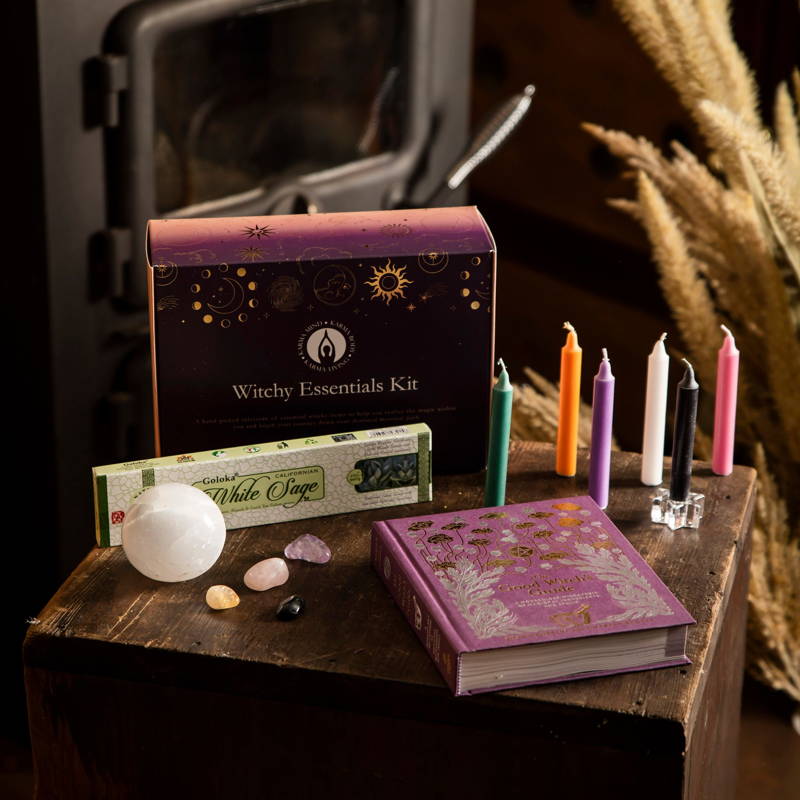 Candles are some of the most powerful tools for any lover of magic. Spell candles are great for lighting in line with spell affirmations, to help manifest enlightenment, empowerment, and good health. Spell candles are also great for warding off negative energy, and also imparting positive energy into your life. Each coloured spell candle is meant to create a different outcome for the user, and can be useful for different intentions. Click on each candle to find out what each colour is great for!
Direction: Place your chosen spell candle in your spell candle holder and position it on your altar or in your chosen space. Light the candle and let it sit for as long as your ritual recommends.
Witches know which magickal and natural remedies work best. From cleansing spells to hands-on healing to the spiritual use of herbs, this fully illustrated, spell-binding book offers a trove of holistic Wiccan magic and lore. It teaches you which herbs, spices, oils, brews, potions, and more can help you live life to the fullest. And with spells, remedies, and recipes from a roundtable of noted witches, healers, and mystical practitioners, The Good Witch's Guide is a must-read for anyone who wishes to celebrate both good health and spirituality.
This white sage is set to be your best friend when it comes to conducting a number of magic rituals. Using sage to cleanse a space is an important part of Wicca practice and is important for resetting and creating a healing environment.
Direction: Light your incense and place in an incense holder,and allow the smoke to filter through the home, over yourself and spiritual objects such as crystals. Open windows and doors and let the smoke carry any negativity out and away from your space. Hold positive intention in your mind's eye or speak them out loud, as smoke travels through the home, imagine a positive, loving energy replacing any negative energy that has been removed.
Selenite crystal is a potent crystal known for chakra balancing and clearing negativity from your surroundings. For centuries, it is known to be used for its healing benefits. Selenite can help to:
● bring about peace and calmness
● provide clarity to wearers
● clear out blocked energy
● uplift spirits
● help access inner intuition
● cleanse spaces
● enhance the power of manifestation
Direction: Carry your sphere with you, or display in a particular space to help manifest Selenite's power.